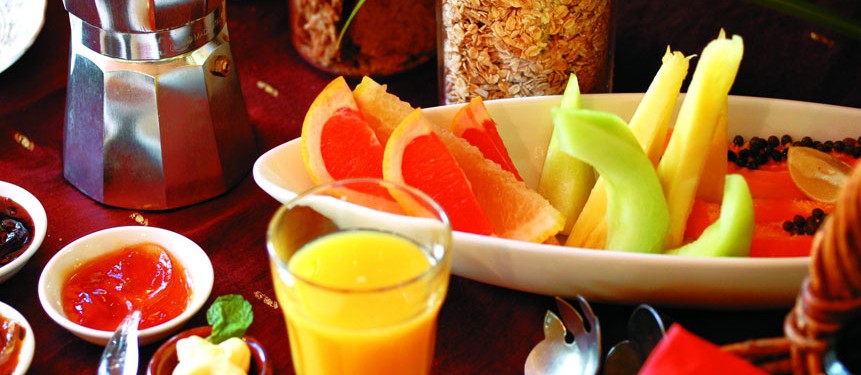 A delicious, gourmet tropical breakfast, using regional seasonal produce, can be booked along with the accommodation, or no later than the night before.  Breakfast is served at your table in the charming poolside breakfast room between 7.30 and 8.30 am.
BREAKFAST MENU
full set menu $
Fruit Juice
Homemade tropical muesli with freshly roasted hazelnuts, Greek yoghurt,
Top End eucalypt honey and organic banana
Seasonal and regional fruit platter
Wholemeal bruschetta ~ tomatoes, Australian olive oil & freshly picked basil from the garden
Wholegrain toast with a selection of locally grown and homemade jams
A pot of leaf tea OR a choice of herbal teas
OR a cup of delicious Italian coffee
Additional coffee $
Menu ingredients may change due to availability
Gluten Free breakfast available
Child price 3 – 7 years
Rum Jungle Bungalows is closed for 2014.  All Rates and prices will be updated on this website when bookings
re-open for the 2015 season.